Hybrid and Electric Car Servicing and Maintenance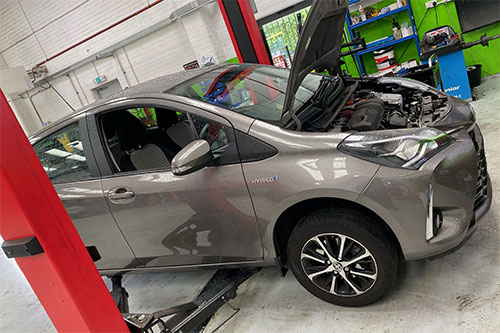 Are you looking for a Hybrid & EV service Colchester garage? Our trained technicians here at Simply Serviced are on hand to service your hybrid or electric car to manufacturer's specifications.
In recent years, the number of hybrid and electric cars sold in the UK has increased. With models such as the Nissan Leaf, Mitsubishi Outlander PHEV and BMW i3 already proving successful, manufacturers are set to ramp up EV sales in 2022 with the anticipated release of the Audi e-tron, Mercedes-Benz EQC, Mini Electric. As these cars get older, regular servicing and maintenance is required just like every other vehicle.
Fully electric cars have fewer moving parts then conventional engined vehicles meaning there are less components that require servicing. However with significantly higher voltages present in E&HVs  (currently up to 650 Volts compared to 12 Volts in engine powered vehicles) ensuring the correct procedures and repairs are carried out is paramount.
Why Choose Simply Serviced for Your Hybrid & EV Service Colchester?
At Simply Serviced, we have continued to invest in ensuring our facilities are the best around, keeping up with the latest developments in electric and hybrid vehicle technology.
Not only do we have the best equipment but also our technicians are qualified with the IMI Hybrid and Electric Vehicle qualification. Have peace of mind knowing your EV will be well looked after in our garage and we will have you back on the road in no time!
Due to the nature of electric vehicles, it is advised to only have qualified EV mechanics carry out maintenance or servicing, therefore if you're looking for EV Service Colchester ensure you book your car in today with us.
Simply Serviced is an award winning EV car service, EV repair and EV MOT test garage in Stanway Colchester Essex located on Tollgate retail park, serving Colchester Essex and surrounding areas.
Call us for EV service and repairs in Colchester
Call 01206 575777 or book your car in online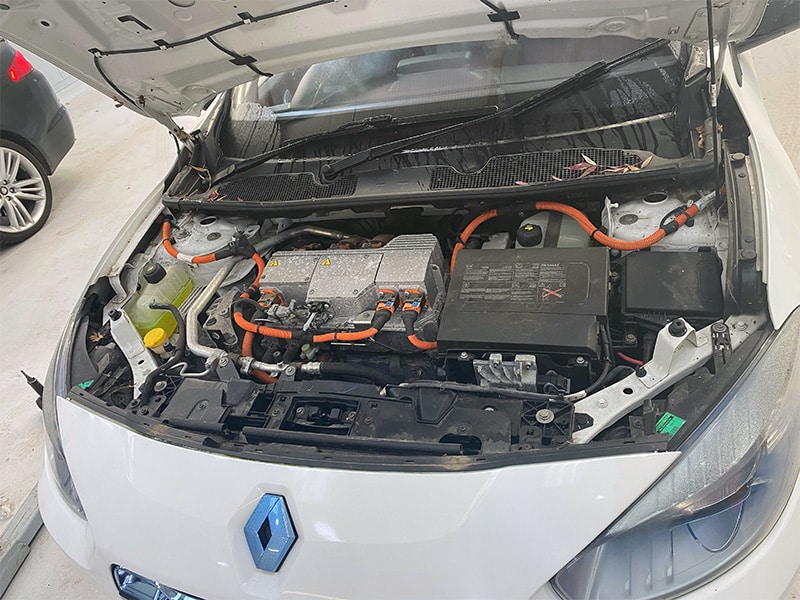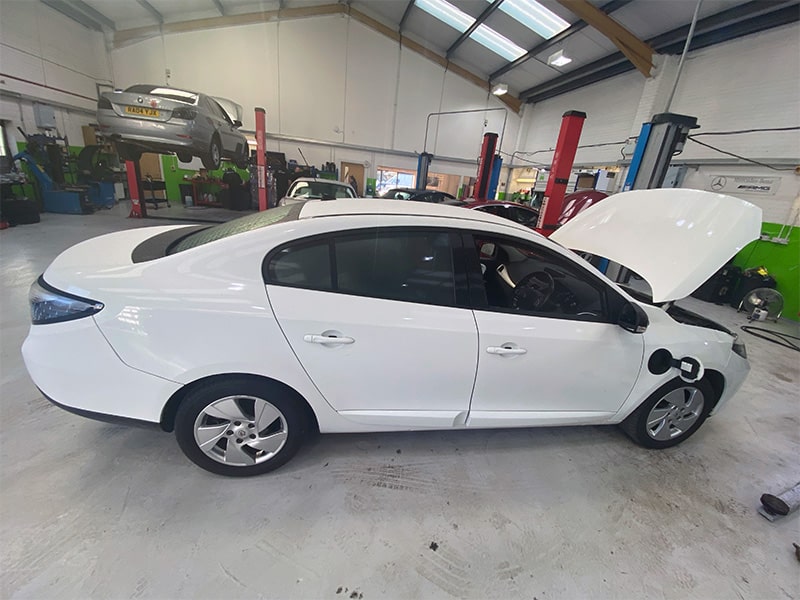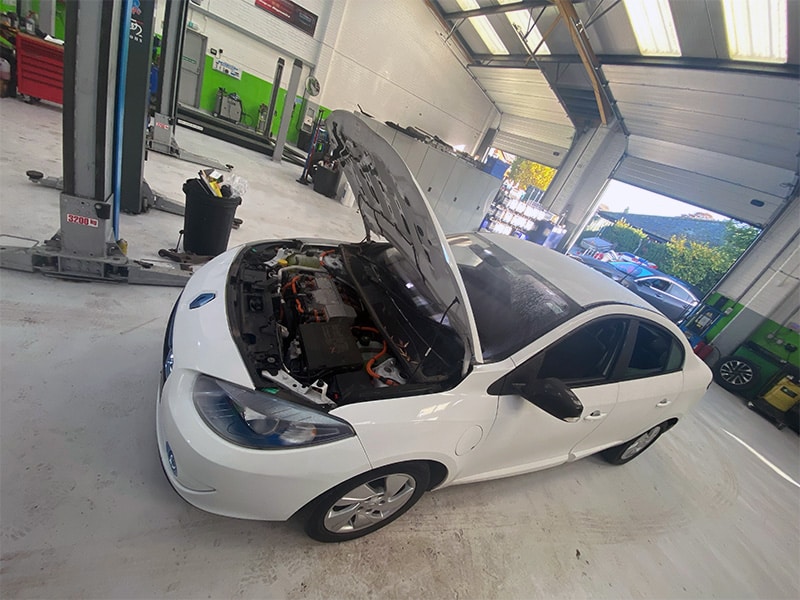 Hybrid & EV Service Colchester FAQs
Can you service electric and hybrid vehicles?
Yes, we can! Here at Simply Serviced we have IMI qualified technicians on hybrid and fully electric vehicles.
How much does it cost to service a hybrid vehicle?
The cost for servicing your hybrid vehicle would about the same as a conventional vehicle. The same checks need to be carried out on the engine and must be serviced the same as a conventional vehicle. The costs to service a fully electrical vehicle would be considerably less as there are less moving parts. Call for a free quote!
How often should an electric/hybrid vehicle be serviced?
Electric/Hybrid cars should be serviced at the same intervals as a car with a combustion engine, which is at least every 12 months.
What is involved in an electric/hybrid vehicle service?
Like petrol / diesel powered vehicles key components will be checked such as;
Bodywork
Interior & exterior lights
Operation & condition of windscreen washers/wipers
Braking components
Steering & suspension components
Condition of tyres & adjusting tyre pressures
Vehicles underside
Spare wheel/mobility kit.
Check the condition of fluids & top up where necessary

Replacing air cabin filter to ensure interior air pollutants are kept to a minimum.

With the addition of Electric / Hybrid specific items

High voltage battery
Checking charge connector & cable.
High voltage cabling and components condition & routing
Charging vehicle
Engine oil & oil filter change (Hybrid only)
How often do Hybrid batteries need replacing?
The batteries in modern hybrids are designed to last for at least 100,000 miles. Some might even make it to 150,000 or more.
How can I prolong the life of my battery?
There are a few things that are advised to help prolong the life of your battery;
Avoid constantly fully charging your electric car while this reduces your range, it can increase the lifespan of your battery and will allow room for regenerative braking, which would not be possible with a fully charged battery.
Ensure annual servicing is carried out, spending money on routine servicing will minimise costly repairs in the future.
Are electric vehicles better for the environment?
Electric vehicles are certainly a step in the right direction for eco-friendly transport, with no engine producing harmful emissions the major factor is how the electricity is produced, however even electricity produced from fossil fuels has been proven to be an improvement over combustion engined vehicles. To improve your carbon footprint choose a 'green' energy provider that generates it power from renewable sources such as from wind, solar or hydroelectricity.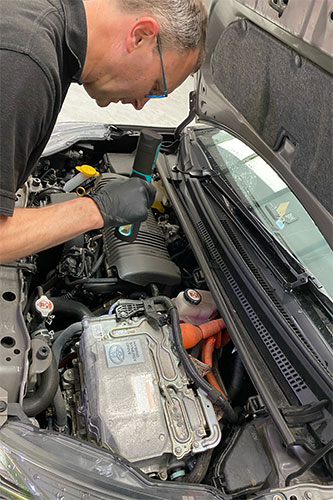 Best Electric Car Service in Colchester
As is the case with every vehicle, electric cars will also require some servicing. Main components of the electric car are the battery and the motor. Timely maintenance of the motor is necessary to keep it running efficiently and to prolong life. Similarly, batteries should also be well maintained, ensuring optimum battery capacity and efficiency, prolonging battery life and range.
If you need your electric car serviced in Colchester, then you have found the best option already. Simply Serviced offers all kinds of electric car repairs and services at affordable prices. We also make sure that everything is done accurately with precision and to manufacture specifications. We have an experienced team of trained electric car specialists to deliver you the finest electric car services in Colchester.
For all your Hybrid & EV Service Colchester requirements, be sure to give us a call or book online today, we'd be happy to answer any of your questions!
Have a question?
Our support staff are ready to assist you with your EV Service Colchester enquiry.
Contact us